Everybody has a dream ideal of what they want to do with a shop. For me it needs to be able to do a variety of projects. But basically it will be set up for woodworking. But I want it able to undertake mechanical project that are within my comfort range as well as electrical and metal projects that are part of the whole ideal of reuse and re purposing of dumpster diving and sidewalk finds as well as from scratch work.
One of the things I intend to do in the near future and over the next year is cosmetic and mechanical improvements on a recent purchase of 1997 Dodge Dakota. Essentially I want to repair body damage and repaint the truck black as well.
My next wood work will be a laptop tray to use at my favorite easy chair. I am looking at a design similar to what Woodworking for engineers web site has done.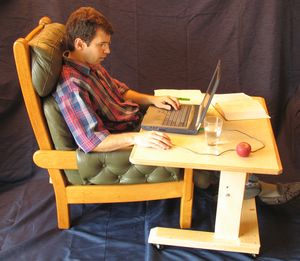 Here is hsi excellent web site
http://woodgears.ca/projects.html
So with the projects that I have in mind it is the reason I said the shop I setup will be combination of primary woodworking but capable of mechanical work.
To my family who may or not read this blog. Think 110 V welding rig and a small cutting torch for my upcoming birthday. Feel free to go expensive.
I am still haunting Craig's list and pawn shops for a mortise machine, bench top planer and joiner. Eventually I will find one at the price I am willing to give.
Well with that in mind I guess I better get busy.
A quick note
A recent survey of Europeans on whether they would like to immigrate to the US . The majority said no mostly because of the health care policy and our economy that they felt favored the rich over the working class.
Interesting isn't it that we are no longer the country of choice for immigration in Europe.